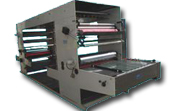 LAMINATION
After the jute is woven it is then sent away for lamination. The entire jute roll is laminated with a LDPE lining. The jute is then sent back to the factory.
CUTTING
After dying of fabric is done, it goes to cutting department. Fabric is arranged in layers & cut according to the product pattern . Cut fabric is marked according to product coding & handed over to concerned department for further processing.
PRINTING
Screen printing is done on cut fabric by arranging the fabrics in large printing table. Water based [Azofree on request] colors are used for printing. After the printing is done fabric is left to dry. Then it goes for stitching.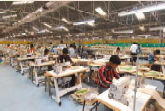 STITCHING AND FINISHING
All the body parts such as front back body, gusset, handle of a bag are stitched together in stitching machine.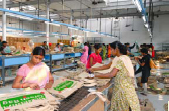 CHECKING & PACKING
Finished bags are quality checked for any kind of errors. If any error is found then it is mended & rectified.